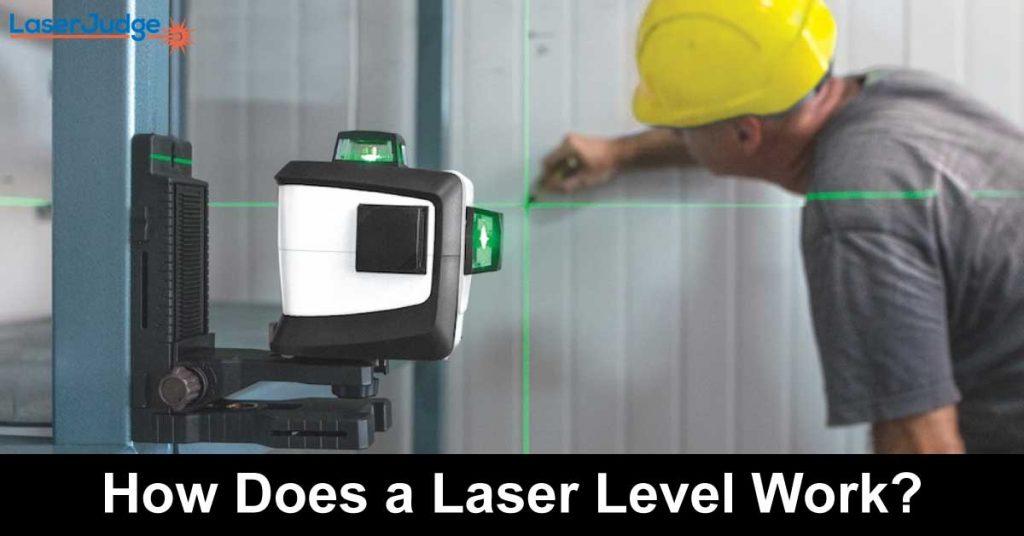 A laser level is a device that projects the laser line (a focused beam of light) in the required direction. You can accurately align your work to this line. The laser level is mostly used in construction, surveying, grading, framing, flooring, and many other indoor and outdoor works. This device is suitable for almost all tasks requiring accuracy in putting, hanging, or attaching an object.
Technology behind it:
A laser level uses a diode. A diode is a semiconductor device that produces visible coherent radiations (having the same frequency and constant or zero phase-difference). The size of the diode decides the width of the light. A small diode can produce a smaller beam of light which is more accurate and easy-to-locate.
The wavelength, brightness, beam type, and color depending on the particles of the laser level. It is worth knowing that green laser lines are four to ten and somewhere even forty times brighter than traditional laser lines. These lines are more visible to human eyes due to their higher wavelength and are suitable for outdoor jobs. However, these are comparatively more expensive.
Different types of laser levels use different types of batteries. Some use alkaline batteries while some come with rechargeable lithium-ion. Few laser levels are compatible with both batteries along with the direct input. It is the power consumption that urges the manufacturer to include the most suitable battery.
Applications:
Now a day, the use of laser levels has become prominent in every field. Construction relies totally on this device. Without a laser level, a constructor cannot perform the tasks like foundation, wall studding, tiling, rafter alignment, ceiling, windows and doors, wiring, piping, and whitewashing efficiently. Although there are many other tools to perform these tasks none of them is more efficient, accurate, and modern than a laser level.
Laser levels are used at a large scale for commercial projects including roads and buildings construction. In villages, laser levels are used for the betterment of the agriculture industry. Land leveling is one the best use of laser level which has positively impacted the lives of villagers.
On the other hand, this tool is also suitable for decoration, DIY, and other small tasks. One can easily hang pictures and mirrors, paint stripes on walls, fence a border in the backyard, and arrange households. Calligraphists are using the laser level to ensure accuracy in their writing work.
Accessories:
Attachments or accessories can further enhance the productivity and versatility of a laser level and make it easier to use. There are many accessories that one can use with a laser level. We are going to list some important and must-have accessories below.
Tripod:
A tripod can stabilize the laser level smoothly. It is perfect for uneven surfaces where laser level is not leveling. Tripod should be used for the tasks requiring you to place the device at a certain height. Tripod height, thread, and functionality are few considerable things while purchasing it.
Magnetic bracket:
Magnetic bracket is another mounting tool. It can attach the laser level with a metal or steel surface. Many laser levels come with a built-in magnet. Furthermore, you can use a laser level adaptor, laser mounting pole, and gimbal for mounting/using purposes.
Suction cups:
Suction cups can make tiling easier by not letting the laser level move an inch after being-secured. This accessory is best for tiling and mostly comes with tiling laser levels. Apart from this, you can also use an adhesive stripe for tiling which is even more versatile.
Laser enhancement glasses:
If a user is not able to distinguish the laser line, he can use laser enhancement glasses for better results. There are two types of enhancement glasses; red and green. You can choose any of them depending on the laser level you are going to use.
Goggles:
Goggles are also a kind of glasses but unlike other glasses, goggles protect the eyes against sun rays, ultraviolet radiations, chemicals, and other particles that affect the eyes. Some laser levels (especially green line laser levels) are powerful enough to make one blind. It is better to protect your eyes before using such a harmful device.
Laser detector/Receiver:
A laser detector detects the laser level at a large distance even when these lines are invisible to human eyes. People mostly use this device while using the red laser level in daylight. It is also valuable for increasing the projecting range of a laser level.
Grade rod:
A grade rod is a stick having measuring scales on it. While leveling the land or checking elevation difference, you will need a grade rod.
Target card:
A target card helps locate the exact position. It also enhances the visibility of the laser line. You can use the green or red target card with the relevant laser level.
Carry bag:
To keep the laser level dust-free, well-organized, and safe, you should use a dustproof carry bag. And important of all, a carry bag makes transportation easier.
Types of laser level:
Laser levels can be categorized into several different types depending on their working, specialties, and functions. Here I am going to discuss a few of them.
Dot laser: A simple dot laser level projects a dot/point. The projected point could be a level or plumb. It is the simplest and hence cheapest laser level. It is best for indoor works however the latest dot laser levels are equally suitable for outdoor.
Line laser: A-line laser level is the most common type of laser level. It projects horizontal and vertical lines of 65 to 100 feet distance. This type of laser level is best for indoor as well as small-scale outdoor tasks.
Cross-line laser: Some line lasers can project horizontal and vertical lines simultaneously to form a cross. You can use such laser levels to decorate houses and perform indoor tasks.
Rotary laser: It is the latest 360-degree laser level. It is ideal for outdoor projects. It is a comparatively expensive and professional device. It has a working range of up to 1000 to 2000 feet.
Conclusion:
I think I have explained "how does a laser level work" with various perspectives and details. Laser levels have various internal parts that vary from type to type. These parts play an important role in leveling. I hope you will find this article interesting. In case of further queries, feel free to ask in the comments.
Read More: