Do you want to play a thrilling and entertaining game without being hurt or damaged? Then laser tag gun is a suitable game for you.
The best laser tag set uses a gun that only fires infrared lights, unlike many other shooting games that ruin the clothing or cause pain and bruising.
Laser tag is a great way to get your kids off the sofa or if they exclusively requested one. It's appropriate for people of all ages, and perhaps even adults will have a wonderful time with these laser guns. Finding suitable laser tag guns, on the other hand, necessarily involves some checking, and we were glad to do it for the laser gun set lovers.
Several laser tag sets are suitable to buy online, although some prefer others in terms of quality, durability, and versatility.
So, in this article, you will get the best laser tag set choices available in the market. After reading it, you can make the quick and best decision that which laser tag guns are according to your range.
Read More: Best Laser Tag Sets For Adults & Children
List of Top 10 Best Laser Tag Sets in 2022:
| RANK | Model | Weight | Range | Weapon Mode | Rating | Price |
| --- | --- | --- | --- | --- | --- | --- |
| 1 | | 4.51 pounds | 150 ft. | 4 | 4.7 | |
| 2 | | 0.77 pounds | 130 ft. | 4 | 4.6 | |
| 3 | | 2.89 pounds | 140 ft. | 2 | 4.6 | |
| 4 | | 6.3 pounds | 150 ft. | 4 | 4.8 | |
| 5 | | 1 pounds | 200 ft. | 2 | 4.5 | |
| 6 | | 1.73 pounds | 225 ft. | 2 | 4.4 | |
| 7 | | 4.84 pounds | 130 ft. | 4 | 4.5 | |
| 8 | | 4.39 pounds | 130 ft. | 4 | 4.4 | |
| 9 | | 3.74 pounds | 150 ft. | 4 | 4.3 | |
| 10 | | 5.8 pounds | 140 ft. | 2 | 4.7 | |
1. ArmoGear Laser Tag Set:
With the ArmoGear laser tag guns set, the most sophisticated set of laser tag guns available, you can transform your home or courtyard into a laser tag area! Almost no other laser tag package has real Target vests as that of the ArmoGear Laser Tag Guns.
These laser guns feature many features, including the fantastic invisible mode, the natural voice-guided instructions, the nighttime vision spotlight. And surprisingly, it has a shooting range of about 150 feet!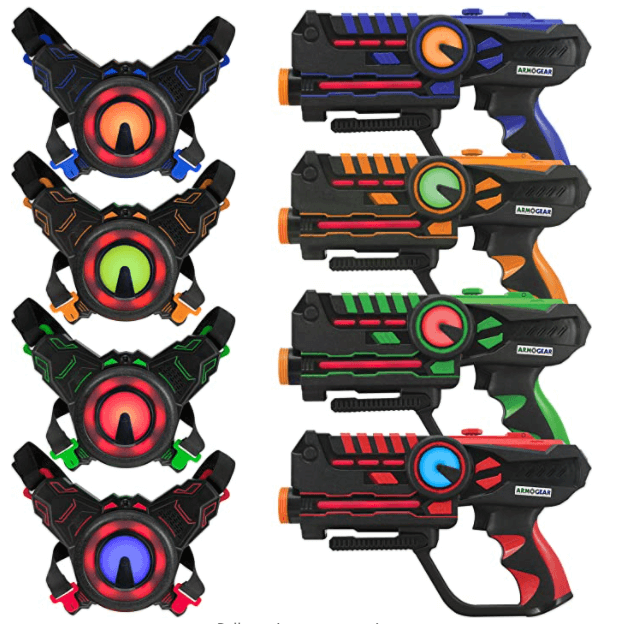 Specification:
Brand: Armogear
Weight: 4.51 pounds
Range: 45 meters
Batteries: no
Features:
Recommended age is the kids of 8 years or above
Includes four guns
The range of the Gun is 150 ft.
Requires vest
Multiplayer:
This thrilling battle will feature up to four teams! To blast the opponent and claim your victory, turn between the special forces of the Gun. Even for young children, these laser guns are developed for a firm grip on your palm.
Safety:
ArmoGear Laser Tag Guns are 100 percent Secure and harmless as they have 0.9mW Child Security Infrared Signal Emissions. Due to the mark security standards, these blasters are regarded as the best laser tag for kids. 
These are also safe for kids, with high-quality, long-lasting laser guns designed to the highest production standards.
Family fun:
The ArmoGear Laser Tag Gun is the best laser tag game for home. Tactile movements and realistic shot sounds produce an interactive gaming atmosphere that will keep kids and teens far from their phones! With a great family laser tag game on vacations, winter breaks, or family events, you can have a damn good time and make lasting memories! It's the Great Present Suggestion for children of all ages!
Night Vision Flashlight:
You can even play in the night, or at the very least on a darkened battlefield. A night vision spotlight, consisting of a strong LED lamp, is included with the guns. It protrudes from the Gun's tip, making it easy to navigate in the dim or no light.
Batteries:
For the protection of the children, ArmoGear Laser Tag Guns do not include lithium rechargeable batteries. Instead, each Gun and vest utilize three AAA batteries.
Warranty:
It has a full money-back guarantee.
2. Kidzlane Laser Tag Set:
Organize exciting fights with your mates and get addicted to the most incredible action game ever! Choose your squad from the vibrant colors and launch the brutal battles! If you are looking for the best laser tag equipment, Kidzlane Laser Tag is the best option. Another reason is that it is inexpensive. So anyone can afford it.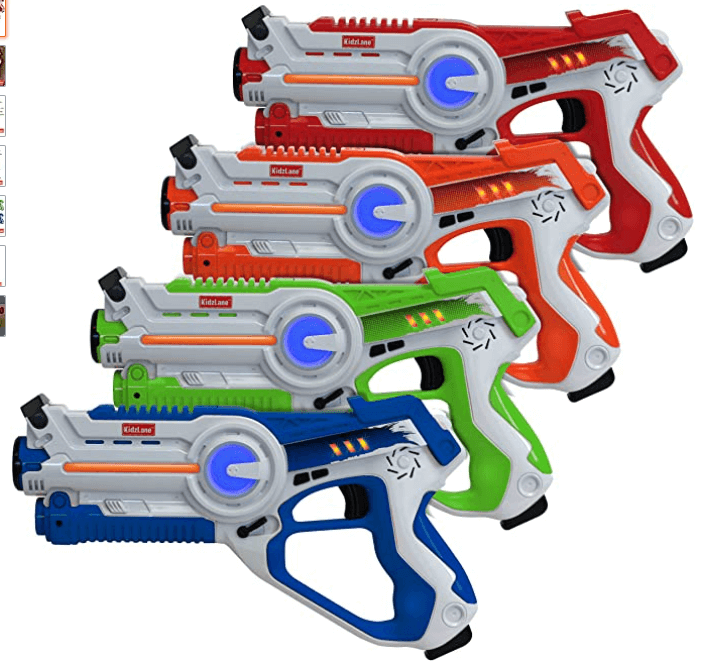 Furthermore, Kidzlane Laser Tag features four gun settings so that you can smash your opponent with one of the four gun setups. Every setup is followed by ultra-realistic shot sounds for an exciting game!
The different setups are as follows:
Pistol
Shotgun
Submachine Gun
Specification:
Brand: Kidzlane
Weight: 0.77 pounds
Batteries: no
Features:
Includes four guns
The range of shooting is up to 130 feet
Requires 16 AA batteries
Vests are not included
Rocket Outstanding Quality:
Become a part of the action! These Laser Shotguns illuminate and make a sound as they shot up to 130 feet! Every gun mode has its collection of life bars, accessible rounds, and mind-blowing sounds!
Multiplayer options:
When many players participate in laser tag, the game becomes more enjoyable. The fact that it comes in a box of four unique colored weapons is why we picked it as the strongest.
Your child can compete with buddies. In addition, they can select their teams of up to 4. Each blaster has a 'selector' button to choose which color you want to play with.
Read More: 7 Laser Tag Rules
Safety:
This toy is approved secure for kids and adults with a Child Protection Infrared Light Emissions of no more than 1mW. It is one of the perfect indoor and outdoor games for festivals and get-togethers!
But, do consider that it is best suitable for the kids of 8 years or above.
Outstanding Gift:
Recognize your young kids to the laser guns of his fantasies! Bring him a high-action game that will provide him with exciting experiences and unforgettable adventures.
3. Nerf Lazer Tag Phoenix LTX 2-Player Set:
This laser tag package's low price can lead you to believe there may be something faulty with it. Still, it not only comes with everything that you require to start the game as soon as you attach batteries, but it also has some features that are advantageous over the more expensive ones, such as the fantastic 300-foot long range of shooting.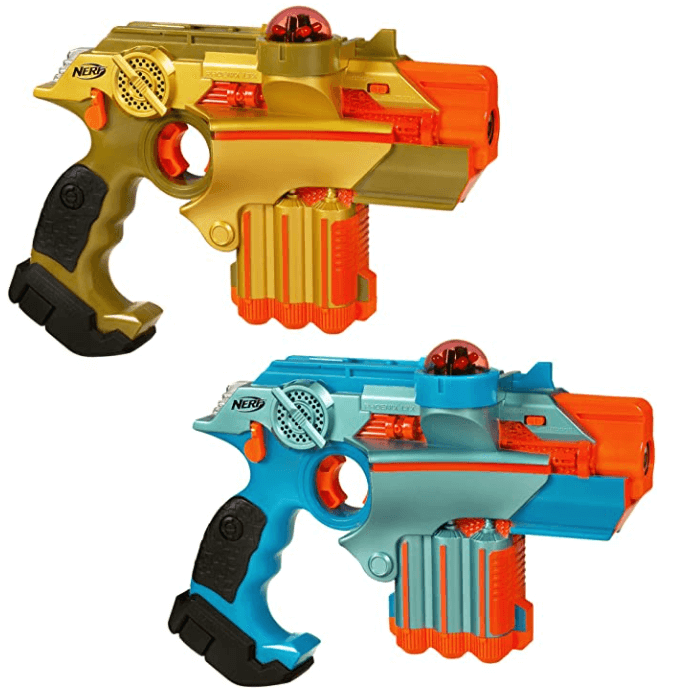 Specifications:
Brand: Nerf
Weight: 2.89 pounds
Batteries: yes
Features:
Requires 12 AA batteries
Excellent sounds and effects
Best for people of 8 years old or above
The total number of guns is 2
It doesn't require a vest
Shield time
Multiplayer gameplay:
The Laser Tag Phoenix is a complete set that includes two blasters for thrilling Laser fights. Both Nerf blasters are compatible and identical, allowing for synchronized play by more than two teams. Invite your mates to challenge you in-game modes, and they'll be able to fight with 3, 4, or 5 players or even more.
There is also a power setting on the blasters that determines how often We can tag a participant before disqualifying.
With these Nerf Lazer Tag Phoenix LTX blasters, the battlefield can be anywhere where you want, so the players can compete inside their homes or spread out outdoors for matches.
Family fun package:
These Laser tag guns are appropriate for kids, adolescents, and teenagers. Multiple gameplay modes make the fight enjoyable and straightforward for the entire family for ages eight and above. Before they've been done, participants can schedule their blasters for 10 or 25 knocks. To level, the area set the Laser tag blasters for starters to 25 and more experienced players to 10.
The shield enabling button is another intriguing aspect, as it helps you prevent yourself from being tagged for a specified period.
Best gift:
The perfect present for kids, teens, and adults is these Laser tag blasters. It's ideal for a wedding, Easter, and other occasions, as well as every other time.
Convenience:
The Nerf Laser game is a high-quality plaything that the entire family will enjoy. These blasters from Nerf use a level 1 LED infrared beam. The package does not include a vest as there is no need for it for these blasters. It eliminates the need for bulky additional clothes and eliminates the risk of losing darts.
Players do not have to stop the game from restarting, allowing them to continue playing. Plus, there's no cleanup. So instead, please take advantage of our environmentally safe product, which comes in a reusable box.
4. Squad Hero Rechargeable Laser Tag Set:
It is the second pack of home laser tag on this series that include vests. With identical team and blaster configurations, this package is quite similar to the ArmoGear setup. Besides, it has so many additional features that must have the best laser tag gun set.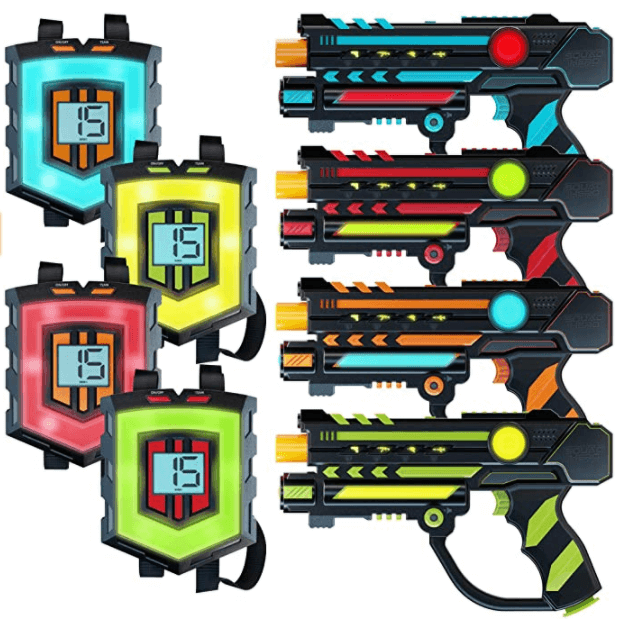 Specification:
Brand: Squad hero
Weight: 6.3 pounds
Range: 150
Batteries: no
Features:
150-foot range
Recommended for eight years and above
Vests included
Child-safe infrared emission.
Innovative laser tag set:
Lock 'n load for a battle for dominance with the most Innovative laser tag package yet! So put on your vest, pick a gun, and double-check your ammunition before turning your courtyard or garage into a battlefield for a high-tech laser tag fight.
To be a winner of the game, you must sprint, cover, jump, start shooting, and kill your opponents! There are four guns, four vests, and one charging station in the package.
Rechargeable batteries:
The Squad Hero Laser Tag Set comes with eight rechargeable Lithium-ion batteries. So you'll never have to take a break from playing to replace a couple of hundred batteries. Both the blasters and the vests can be completely recharged! In addition, the package features a revolutionary charging station that allows you to recharge all of your equipment at once. At a single cost, you can play approximately eight games.
Technologies:
It's no fun struggling to recall the score! Lives and team details are instantly configured, and LCD screens on jackets and guns enable you to monitor your position without relying on lighting or sound, even amid war.
You can choose from four gun types. Squad Hero Rechargeable Laser Tag Set is the best laser tag system as it features a customizable lives-per-game environment, Stealth Mode, and a night spotlight. In addition, all Squad Hero Laser Tag packs are functional, so you can add as many weapons and vests as you like!
Satisfaction:
Each package has been designed and checked to the highest quality control levels to ensure you obtain a professional, top-quality product. And if anything goes wrong, the Squad Hero customer service department is ready and able to ensure you have a fun time.
5. Laser X Laser Gaming Set:
The Laser X home laser tag package is unique in that the blasters work with small target jackets attached to the guns with a small cord. However, it isn't at all unpleasant, so it's necessary to keep it in consideration.
These vests aren't particularly large or heavy, and the cable wouldn't get in the way. The advantage of using smaller vests as objectives is that firing at a vest rather than an enemy's Gun makes a perfect appropriate goal. Whether you prefer home laser tag weapons with or without vests is a personal choice at the end of the day.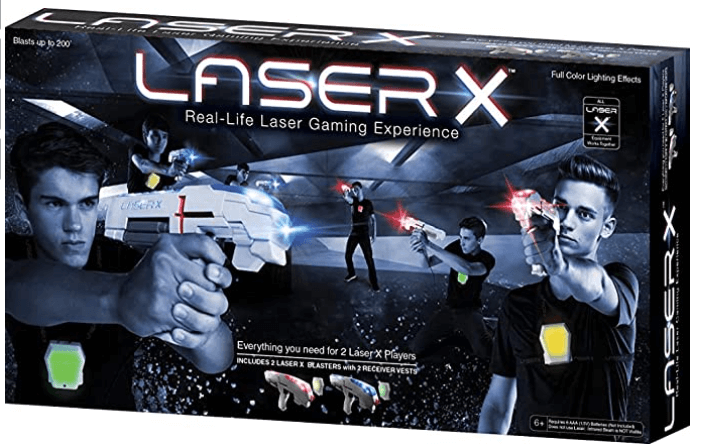 This two-player game is perfect for snowy indoor hours or sunny outdoor times. Although you are free to go insane and build your own game, this package contains guidelines for a more rational game. It will keep you entertained for hours.
Two laser weapons and two vests are included in this game. The full-color special effects make it easy to keep records of targets and hits, so you'll know who's in front! And during the game, there is also an immersive voice coach that will assist you. You can also enjoy the music and sound effects by just plugging in your headset.
Specifications:
Brand: Laser X
Weight: 1 pound
Batteries: yes
Features:
Recommended age from the manufacturer is 6 – 15 years
Requires 6 AA batteries
Range:
Moreover, it is the perfect game for playing in the home, close vicinity, or outside in a garden. The laser guns can be mounted up to 200 feet apart, allowing you to build a massive competition course in your garden and have loads of enjoyment.
Fun Activity:
Parents are delighted that they purchased laser tag guns for their children. It's not only fun for children, but it's also a great way to connect with your children. So to carry out your laser gun and take part in the game!
Light and sound effects:
It features fantastic lighting and sound effects that provide real-time input on a player's progress. It's pretty awesome, but it could irritate some people. Since the light effects are too strong, you can use these laser tag weapons in the dark.
Voice coach:
The introduction of a voice coach adds to the fun and entertainment that this game offers. It provides you with gameplay tips and techniques when playing ambient music. And, you can't hear your enemies while you're using headsets that adds to the pressure.
6. AlphaPoint Nerf Laser Ops Pro Toy Blasters:
The AlphaPoint Nerf Laser Ops Pro Toy Blasters are the most significant effort to bring mobile laser tag back to action. Nerf's Laser Ops Pro is a pretty cool home laser tag kit, even though I'm not a big fan of laser tag with phones.
With this package of Nerf laser ops pro blasters, you will participate in head-to-head real-time laser fights straight out of the case.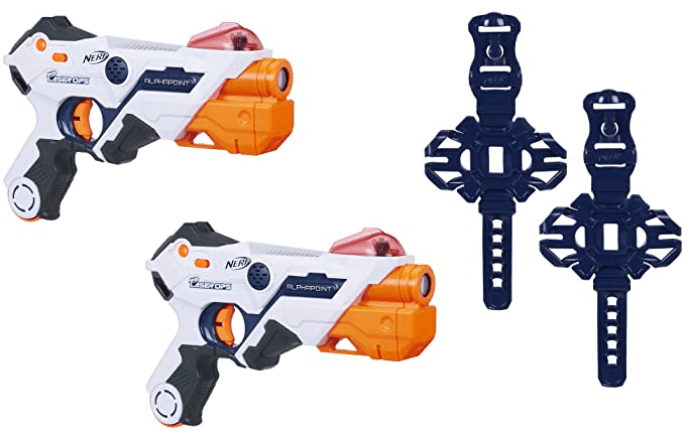 Specifications:
Brand: Nerf
Weight: 1.73 pounds
Range: 225 ft
Batteries: Yes
Features:
Two blasters in the package
Recommended for kids of 8 years and up
Requires 8 AA batteries
Sound and effects:
AlphaPoint Nerf Laser blaster features the lighting and sound effects, free ammunition, a Rapid reload button, and indications for fitness, ammo, and multiplayer options.
Range:
Each of the two laser ops pro Nerf toy blasters shoots at a range of up to 225 feet or 68 meters.
Advanced feature:
Personalize your laser tag sets, watch your results, and identify competitors with the Nerf laser ops pro application. Unfortunately, this function required a smartphone. Therefore, it is not included in the package.
Smartphones are not necessary for the game to engage in a laser tag fight at home with these laser guns. The mobile laser tag capability is merely a benefit; the blasters perform well without using smartphones or applications.
It also includes two armbands to keep your Smart gadget (not included) on your arm when you're fighting. However, please consider that these armbands do not protect the mobile device.
Kinds of blasters in the Laser Ops:
There are two kinds of blasters in the Laser Ops Pro series from Nerf. The Delta-Burst is a sniper rifle-style gun, while the Alpha-Point is a smaller, lightweight pistol-style blaster.
They can be bought separately or as a pack, but the most valuable aspect is that they can all work perfectly.
Note:
This product is not suitable for kids less than three years.
7. Best Choice Products Laser Tag Set:
This laser tag game is suitable for both children and adolescents. And, like the former, it is thoroughly designed to provide you with an exciting and fun multiplayer.
Participate in an exciting fight with this inspiring package that includes infrared sensors and light emitters that are secure and entertaining.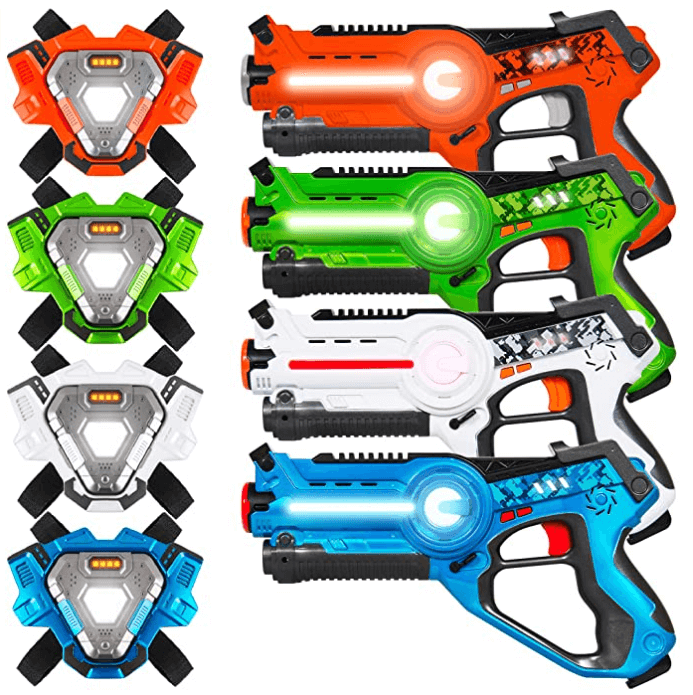 Specifications:
Brand: best choice product store
Weight: 4.84 pounds
Range: 130 ft
Batteries: no
Features:
It requires 4 AA batteries
Recommended for kids of 8 years or above
The package doesn't include vests
Requires minimal assembly
Range:
These gun toys have a 130-foot shooting range and are ideal for both home and outdoor adventures' use.
It ensures you can quickly shoot at targets from a long distance, such as while performing laser tag outdoors.
Sounds and effects:
Each ammunition mode emits accompanying blast vibrations and sounds, while blasters flash up in reaction to each person's health performance.
We appreciate this collection for its fantastic durability and versatility, which is one of the main reasons we like it so much. It helps you pick the type of ammunition you want to use for an incomparable gameplay experience and special attacks.
Multi-player mode:
You can choose from different ammunition modes, each with several shots per refill and different intensity ranges.
Interactive Experience:
Children get accurate laser tag skills to select their favorite color and start a long-range laser fight.
8. Play22 Laser Tag Sets Gun:
The laser tag game has been around for a long time and is becoming increasingly successful. Most of the explanations for this is that anyone will appreciate the exciting activity from childhood to adulthood.
Even if you're looking for a laser tag gun kit, take a glance at this one. It's a laser tag package with essential features and fantastic sound to make every game entertaining.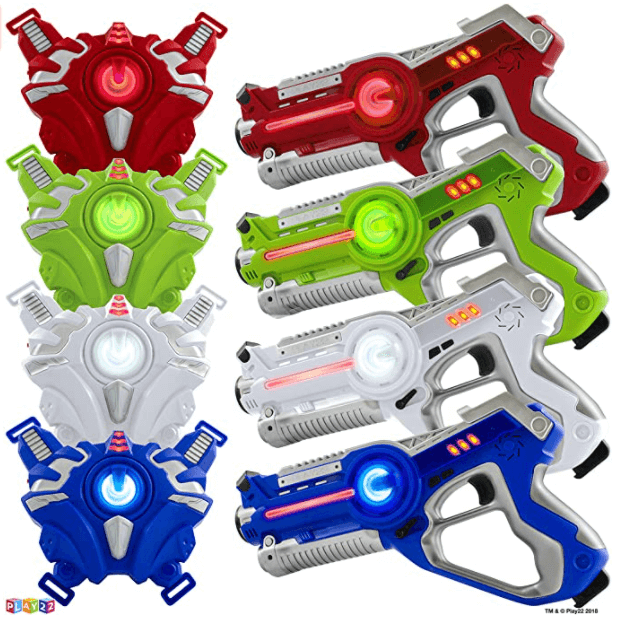 Specifications:
Brand: play22 store
Weight: 4.39 pounds
Range: 130 ft.
Batteries: yes
Features:
Infrared laser tag
Four guns included
Four vests included
Indoor toy
28 batteries requirement
The laser tag game has been around for a long time and is becoming increasingly successful. Most of the explanations for this is that anyone will appreciate the exciting activity from childhood to adulthood. Even if you're looking for a laser tag gun kit, take a glance at this one. It's a laser tag package with essential features and fantastic sound to make every game entertaining.
Gun options:
You can choose from four different gun configurations. The Gun, in particular, has 12 ammunitions and is capable of reducing a 1-point value. The blaster has six shots and will strike a goal for a 2-point bonus. Finally, the machine gun arrives with six rounds and a 2-point life reduction if it strikes.
Sounds and effects:
It has natural vibration and sound effects as you fire or are fired, allowing you to immerse yourself in this action game fully.
Range:
It has a shooting range of about 130 feet.
Safety:
This kit has been deemed safe for those concerned with security by the United States Consumer Product Safety regulations, so you can be guaranteed that it is safe for children of all ages to play with. However, please note that the manufacturer recommends it for kids of 8 years or above.
9. Infrared Laser Tag Guns Set:
All of the products are odorless and do not affect the well-being of kids. It would also not affect the climatic conditions in the United States.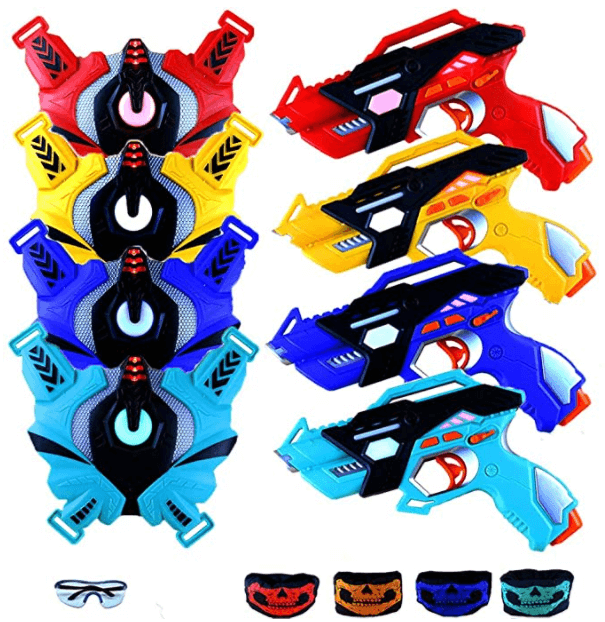 Specifications:
Brand: MESXI store
Weight: 3.74 pounds
Batteries: yes
Features:
Four-player four guns
Four vests included
Perfect for 8-13 yrs
Safe to use
Four weapon modes
Multiplayer option:
This exciting battle will support up to four players! To blow the opponent and claim success, switch between the four-gun options' special forces. These laser toys are built for a firm hold on the side, making them easy to manage, especially for young children.
Products in the package:
The laser gun kit includes extra strategic masks and safety goggles for kids to get the most out of the game. The package includes:
four guns

four vests

four tactical masks

four protective glasses
Batteries:
Each Gun in the package requires three AA batteries. You have to buy the batteries separately. It is necessary as the batteries are not included in the package.
Warranty:
This product is made to strict manufacturing specifications. As a result, we can guarantee that this product will outclass all other products on the market.
The customer service for this product is available for 24 hours. It has a 100 % guarantee.
10. The Adventure Guys Deluxe Lazer Tag Gun Set:
This laser gun is the best and is suitable for parties and celebrations. It provides you with a lot of fun, and if you are willing to take a break from your screens, this will be an excellent choice for you. In addition, it is one of the best laser tag systems.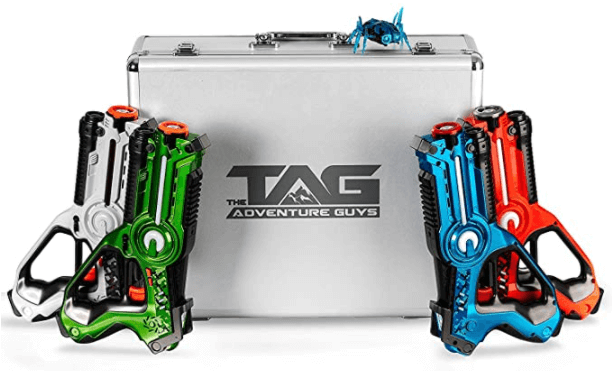 Specifications:
Brand: the adventure guy store
Weight: 5.8 pounds
Range: 140 ft.
Batteries: yes
Features:
These blasters do not need vests
100 % guarantee
High-quality standards
recommended for kids of 6 years or above
these guns require 4 AA batteries
Multiplayer:
Play one-on-one or in groups of up to four to fight your competitor and declare success; each laser tag gun has four weapons.
Safety:
The weapons are 100% safe, with a Child Safety Infrared Safety Emission below 0.9mW. In addition, these are ergonomically built to be suitable for both small and large hands.
Complete fun package:
Each laser tag package for kids includes four next-generation laser weapons. For more significant game events, you can combine several sets. Your kids will never get tired because the tactile sensations, flashing night lights, and unique sounds will keep them entertained for a long time!
Bitsybot!
This little guy scurries across the board, attempting to avoid your target. When you hit him with your laser tag pistol, he flips over or even squeezes his legs before jumping back up and proceeding with his crazy dash for safety. Perfect for goal training or solo play!
What to consider with the Best Laser Tag Set:
Before buying the laser tag guns set for your kids, look for the factors listed below to get the best product for your kid. It will help you in finding a laser tag gun set that your kid wants.
Total Number of Blasters:
The laser guns are the typical component in any laser tag package, as you can see from our rundown of the best laser tag gun recommendations above.
That being said, it's important to think just how many guns come with the package you want to purchase. There will be more multiplayer options as the number of guns or blasters increases.
The majority of the sets contain a total of four blasters, while others only include two guns.
Different firing modes:
If you desire to enjoy the laser tag game to its fullest, make sure to purchase a package that contains more ammunition and weaponry.
Most of the best-rated sets on the marketplace nowadays, including those on our list, offer four different shooting options. These are:
Gun

Shotgun

machine gun

rocket launcher
Each of these types has different lives and shot effects, allowing you to use them to defeat your enemies successfully.
Sound and Vibrations:
While looking for the best laser tag guns, one must consider the shooting sounds and tactile vibrations. These will encourage you to have a more enjoyable gameplay experience and entirely immerse yourself in the game.
Furthermore, the blasters contain additional sounds such as pre-recorded music and video signal directions, contributing to the overall player comfort.
Settings:
The features used in the Gun and jacket are referred to as settings. They help us to run the electronics. For example, a lever, a power button, and incorporated speaker, an ammunition mode, and a target area for weapons with infrared sensors can make up a basic low-budget blaster.
On a pistol or vest, a life meter indicates possible life and ammo. Different weapon configurations, a flashlight for night vision, mode to be invisible (which switches off the light for easier hiding), and shielding time (which allows you a couple of moments of invulnerability) are also included in specific versions.
Safety:
When it comes to their children's well-being, no parent takes risks. It is also why, when searching for the ideal laser tag kit for your children, you shouldn't take any risks.
Although these game sets are safe, we suggest that you thoroughly review the package's specifications you plan to purchase.
Look for models who have completed comprehensive testing and have been verified to be secure for your children. Infrared Signal Emission, which has an energy output of less than 1mW, can be used with the best blasters.
Material of the guns:
Most laser guns are made of plastic material for a longer lifetime, but the material content varies depending on the gun type, production brand, and price. Plastic is an outstanding option because it is lightweight for the kids to play with for an extended period.
Sound systems:
Any time you shoot your blaster, soundtracks and tactile movements are created for a more interactive gameplay performance. In addition, the sensor-sensitive weapons or jacket illuminates in colored LED light when you take a hit.
Some products come with pre-recorded music or built-in immersive voice directions that, among other things, tell you how to destroy your enemy, remind you to reload, and give you input on your current lifespan.
Design:
Laser Tag sets are available in a range of designs that are both attractive and efficient. The numerous colors aid in the identifying of multiple teams. The blasters are made of lightweight plastic that won't cause the kids to be tired during playing.
Time of performance:
Batteries operate laser weapons and vests for their enhanced functionality. When you pair that with children's affinity for extended periods of play and their fondness for fidgeting with the button, which creates a faster power drain, you'll find yourselves with a collection of battery service bills. To stop this, you should invest in battery packs, last for a longer time and cost less.
Warranty:
Considering warranty descriptions will give you a clearer picture of the manufacturer's trust in the laser tag package and its planned lifetime.
Friendly to the user:
It refers to how simple the set and facilities are to run and use. It may refer to a user environment that is conveniently accessible, picked, or flipped, or an ergonomic arrangement that offers a tight grip and is lightweight in the hands. It may also apply to technology-based displays that provide input.
The Nerf Official Lazer Tag Phoenix LTX Tagger 2-pack, for example, reduces the need for mobility-impairing vests by using guns that serve as both blasters and receivers. It keeps you strong, helping you to move and respond more efficiently. If you still can't work out how to use the set, the guide will help.
Options for shooting:
Mostly with laser tag sets that offer various ammo modes, you can take control of your weapons and adjust your Gun against your competitor. The traditional weaponry choices include:
Pistols

Shotguns

machine guns

rocket launchers
Each Gun has a unique number of lives as well as various shot effects.
Many laser tag packages have long-range infrared beams that have accurate shots over hundreds of feet, so You can use them both indoors and outdoor activities. For example, the Nerf Official Laser Tag system has a 300-foot range.
Tips to Win at Laser Tag:
Laser Tag games can be a thrilling and enjoyable activity for kids if they play by following some tips and tricks. Being the champion is the only way more incredible. And besides, what could be cooler than being first? So, before having your dream laser game, boost up your skills with these quick strategies.
Continue shooting:
It is a simple trick, but it's mighty. Continue to strike your targets until the game sets a restriction on ammo. You don't have to be precise with your aim; keep aiming in the direction of your competitor's detectors. There's no issue of ammunition, so shoot them!
Move around Fullbacks:
When shooting, move and switch sideways. You'll be able to aim accurately in this way. It is one of the most defensive techniques in gameplay. Also, don't forget to keep going. If you stay at a place for too long, you'll become prone.
Sweep Move is a successful choice:
Experienced players use this technique. Hold the trigger after sweeping the blaster in an array around multiple simultaneous goals. The weapon will fire in that sequence, and this step will result in you tagging various targets.
Examine the Layout
You must immediately learn the layout of the maze and prepare your actions appropriately. First, examine the places that have a clear view. If there are several levels, don't be afraid to climb on peak and backstab at the enemies below. Only make sure to pick your spots carefully to reduce the chances of being struck.
Be properly dressed:
Dress in dark colors, probably dark blue or black, and put on dark shoes. Suitable clothing and footwear are required. You should dress in layers to counteract the laser venue's preliminary chill, but keep it light and airy because there will be many activities and sweats.
Target Newcomers and children:
You can come across as harsh, but in love and war, all is equal. A new player can be a simple goal for gaining points. To increase your ratings, go after newbies and children first.
If you win or lose, the only valuable aspect to remember during a game is to enjoy yourself. These pointers will assist you in winning; remember to improve from your mistakes.
Read More: How To Cheat At Laser Tag
Frequently Asked Questions (FAQs:
This section will get the answers to frequently asked questions of the best laser tag set. 
1. What is the best laser tag set to buy?
Ans: ArmoGear Laser Tag Guns with Vests Set is one of the best laser tag gun sets to buy. These are the best quality and are inexpensive.
2. Can young children use laser tag sets?
Ans: Yes, young children can use laser tag sets. But it mainly depends on the modal you are buying. Every laser tag set has its own child's age recommendations from the manufacturer. So, before buying must consider your child's age.
3. Are there real lasers in laser tag sets?
Ans: No. the laser tag set toys do not use the real lasers. They use infrared light in them.
How do laser tag guns work?
4. How much space do you need to play laser tag?
Ans: For indoor laser tag play, you must have at least a 30ft x 30ft area.
For outdoor gameplay, it requires a 65ft x 50ft area.
5. Is laser tag painful?
Ans: No, laser tag is relatively safe and harmless as it does not use real laser. But, care must be taken while playing it.
Read More: Laser Tag Vs Paintball
6. Are laser tag guns dangerous?
Ans: No, it is not dangerous.
7. What is the best color to wear in laser tag?
Ans: To be a winner of the laser tag game, always wear dark shade clothes like black or blue.
Conclusion:
Laser tag is an entertaining game for kids. even adults and parents can have fun with it. It helps the kids to reduce screen time and get indulged in some physical game activity.
In this article, we have listed some of the best laser tag sets from which you can choose a laser gun for your kid. The laser guns are the best gifts for the little ones on their birthdays or events like Christmas.